Skylan's elegant stands and boards
are the ultimate audio tweak
Skylan speaker stands are MASS-LOADING. Strong, yet light, they are engineered with MDF and Polymer Extrusion. These stands are designed for the serious audiophile at reasonable prices.
Construction consists of a rigid central pillar which is filled with sand, kitty litter or other material for mass loading. The base is 1" thick, and features die-cast threaded inserts for adjustable steel points or soft feet. The top plate is also rigid and non-resonant and incorporates high friction neoprene de-coupling pads to improve the speaker/stand interface. Skylan damping boards, the result of eighteen years of evolution, are popular with audiophiles as supports for turntables, amps and all vibration-sensitive gear.
For the money, Skylan stands and damping boards are the ultimate audio tweak.

"...I will tell you that this is a product that just embodies the concept of "pride of ownership." Noel Nolan clearly cares a lot about his products, and they fairly exude quality from top to bottom."
From a review by Steve Folberg.
Read more ...
Skylan damping boards are ideal resonance inhibitors
Audiophiles recognize the importance of a damping platform for trouble-free playback. Equipment isolation platforms are usually expensive, heavy and ungainly. The SKYLAN isolation platform is a resonance inhibitor that does the job admirably and is also inexpensive. The external panels take advantage of the strength, low cost and acoustical superiority of MDF. Sandwiched between these panels is a proprietary viscous material with excellent mechanical isolation properties. The platform rests on ceramic spheres. The result? Improved focus and deeper soundstage as the city environment disappears, allowing your system's Chakra to emerge.

Applications
Isolation for your turntable
Isolation for your CD, DVD players
Audio/Video Preamp Isolation
Vibration Isolation for your Power Amp
"The Q-bricks really tightened everything up, the bass was so much more taut and full, far more well defined and the Q-bricks changed the sound stage - much wider, taller and deeper. Micro-details (Louis' lips on the reed!) returned and a far more true, realistic shimmer and sparkle returned to the cymbal and high-hat. Louis' voice floated and emanated as if out of nowhere from much farther back in the 3D sound stage and had a more true timbre and inflection to it."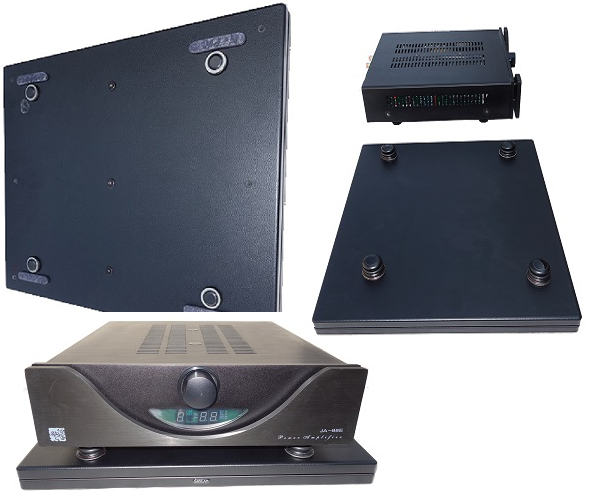 SKY-DB
Damping board $350 USD


Width: 18"
Depth: 15-1/2"
Material thickness: (MDF) 5/8"
Overall Height: 2"
Looking for steel stands? We don't make them, but we hope you'll stay and browse our site. Who knows, you may become one of the growing numbers of music lovers who are ditching steel for Skylan's acoustically transparent stands.

Suits most speaker enclosure designs
Die-cast threaded inserts on base
Rounded Corners
Beautiful Black Finish
Rigid and non-resonant
Mass load with sand, kitty litter, lead shot or rice!

Some top plates are available in different sizes. Call or email for more information.
"Run almost single-handedly by Noel Nolan, Skylan is willing to build highly-developed custom products for its customers at a value-conscious price. Nolan and Chochos have worked together for a long time to design stands for each Omega loudspeaker. One evening, I spoke for over an hour with Noel, and he is just as knowledgeable and passionate about building speaker stands as Louis is about building speakers."

Gary Beard, from Positive Feedback Magazine

Read more »